Somerset County Council defers young carers budget cuts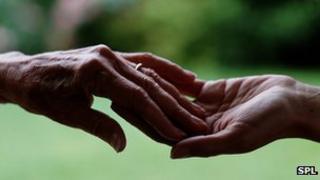 Somerset County Council has deferred planned cuts to its Young Carers Service for one year.
The council wanted to halve the budget by £70,000 through job cuts but has postponed the decision so it can further consult with affected families.
Cabinet member John Osman said it would allow the council to help "shape a service" and still balance the books.
The service gives primary carers aged eight to 18 support, advice and activity breaks from their caring role.
Friends of Somerset Young Carers (FSYC) said the deferral would allow them more time to put together a more considered response to the plans.
'Rushed process'
Stephanie Paterson, from FSYC, said: "There is cause for celebration on one hand, but I think we have to remember that if this is just a deferral of the proposal, we will be in the same position next year.
"But at least we've got a year to actually put together a response, they've got time to listen to what the kids and the families have got to say. It's been such a rushed process over the past couple of weeks."
The proposed cuts would have seen up to four posts going.
Mr Osman said: "I want to work closely with the young carers, their families and supporters to shape a service that will meet their needs whilst still allowing us to balance the budget.
"Our current service is patchy and we need to improve it to bring better help and support to our young carers who have such an important role."
The decision to postpone the proposed budget cut will be discussed at a full council meeting on 15 February.