Talks fail to avert strike at Swindon's Great Western Hospital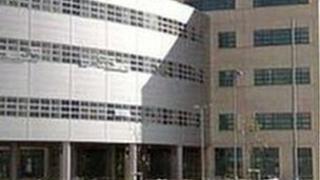 Support workers at Swindon's Great Western Hospital say they will go on strike for 24 hours on Tuesday.
Porters, cleaners and domestic staff are due to walk out over alleged managerial "bullying and harassment" by contractor Carillion.
Talks between the GMB union and Carillion took place earlier but "no substantive resolution" had been reached, the union said.
A 24-hour walkout took place last week. A third strike is planned for Thursday.
Carillion said it had been "very disappointed" that strikes had taken place.
GMB said it had submitted a formal complaint by 109 staff over allegations of bullying in December.
Andy Newman, from the union, said the strike would take place from midnight as "no substantive resolution on any of the issues that the strike is about have been reached".
He said: "It's not too late to avert Thursday's strike. We're available for talks on Tuesday and Wednesday."
'Lengthy process'
The Carillion spokesman said: "The matters that have been raised are still currently being investigated in line with our policies and procedures.
"The investigation has been a lengthy process and at all times we have sought to accommodate the GMB and its members.
"It is unfortunate that a decision to strike has been taken ahead of the conclusion of that investigation.
"Carillion has had many years of excellent employee relations with its staff at the hospital which we have always sought to continue."
The firm said it had "robust contingency plans" in place to deal with industrial action.