Meeting over threatened Radstock 115-year-old oak tree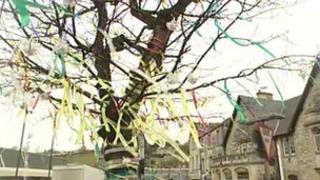 Campaigners trying to save a 115-year-old oak tree in Somerset from being felled are to hold a public meeting.
The tree was planted in Radstock in 1897 to commemorate Queen Victoria's Diamond Jubilee and is where a teenage boy was killed in a crash 15 years ago.
Bath and North East Somerset Council said it wanted to keep the tree but it needed to be cut down to make way for a roundabout.
The roundabout is part of a new road layout and town regeneration scheme.
A spokesman for the council said: "The upgrade of Radstock's road network will tackle congestion and support the regeneration of the local economy.
"The existing road network can't cope with the future homes on the former railway land or development of other sites in the future.
"The town's road system needs upgrading first to help reduce traffic congestion and pave the way for the additional homes and shops."
Family tributes
The council also said the new scheme included a new puffin crossing near the tree and would make it safer for pedestrians.
Seventeen-year-old Colin Latchem died after being hit by a car near the oak tree in January 1997. Since then the tree has been a place for his family to lay flowers.
The council has said it is in talks with the family to "explore any ideas that they have for solving the issue of keeping the oak tree where it is".
Karen Emery, Mr Latchem's sister, said: "They are listening to me. If they have said the tree needed to be an integral part of the regeneration scheme when they started the plans I am sure it would still be there.
"But the plan was to make traffic flow easier and there was no mention of the tree."
The meeting will take place at Radstock Methodist Church at 20:00 GMT and the council is due to meet the Latchem family on Friday.