Repairs to Bridgwater river wall help safeguard town sewer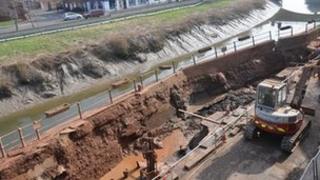 A main sewerage pipe in Bridgwater has been stabilised by engineers who have been repairing the town's partially collapsed river wall.
After flash floods in November a large hole appeared behind the river wall at West Quay leaving the sewerage pipe unsupported and liable to breakage.
Somerset County Council has spent about £1.5m on carrying out the wall repairs.
Cabinet member Harvey Siggs said: "By the end of May, the wall will be much stronger but it won't look as pretty."
He said: "Our big desire has been to get on site and come up with a solution, and we're optimistic that by the end of May we will have stabilised this area, but it won't be finished by the end of this summer.
"Then what we've got to do is take away the original stone, and put it onto panels [which will be faced onto the collapsed section] and hopefully by next year you won't be able to see the join," added Mr Siggs, who is responsible for highways at the county council.
Now the sewerage pipe has been made stable, the seven metre-wide hole will be gradually filled with concrete.
Project manager Peter Radford, said: "There's an awful lot of preparation work underneath, already we've got 75 reinforced piles and specialist ground anchors to hold everything in place so we can put that concrete in place and be confident it doesn't move in the future."
Repair work started two months ago after the county council reached an agreement with the district council, Wessex Water and the Environment Agency.