Bridgwater Carnival squibbing joins Weymouth Olympics event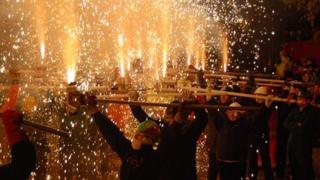 A key tradition in the Bridgwater Guy Fawkes Carnival will be part of the Olympic celebrations in Weymouth.
The display, involving a row of people holding large fireworks, called squibs, will create a line of white sparks.
Bridgwater's Squibbing Officer, Clive Kett, said: "We are chuffed to bits, it's been a long time in the making."
The event, in July, includes 220 performers, known as squibbers, and will take place during the opening ceremony along Weymouth Beach.
Mr Kett, from the Bridgwater Guy Fawkes Carnival, said: "We're going to be doing it outside of Bridgwater for the first time ever in the recorded history of squibbing, and Bridgwater has been squibbing as an event since about 1700.
"We're actually going to be using the 2005 anniversary squib which has a gold sheaf of wheat pattern at the start [of the firework sparks] and then a big silver titanium burst at the end, which I designed about seven years ago."
The squibbing will part of an outdoor theatre event called Battle of the Winds which begins about 20:30 BST on 28 July.