Bigamist Emily Horne dressed as man for sleeping pills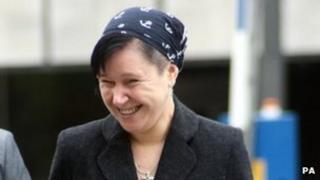 A bigamist who fooled a doctor into giving her sleeping pills by dressing as a man has been spared jail.
Emily Horne, 33, cropped her hair and wore a football shirt and trousers to fool a doctor into believing she was her then partner Craig Hadwin.
At a previous hearing, Horne, of Wells, Somerset, admitted two charges of fraud by false representation and asked for three other offences to be considered.
The judge imposed a 12-month community order with supervision.
She will also be electronically tagged during a 28-day curfew between 19:00 and 07:00.
'Terribly close'
Horne, who has been diagnosed with a personality disorder, has appeared in adult movies and was the subject of a Channel 4 documentary.
Her offences were in breach of a suspended sentence imposed in Manchester in 2009 when she had admitted bigamy.
Horne was listed before Taunton Crown Court as Max Accastes Quiberberon - the name she has adopted by deed poll.
The court heard that Horne - previously jailed for bigamy after never divorcing first husband Paul Rigby - fooled the unsuspecting GP during a face-to-face consultation.
Prosecutor Nigel Askham said Horne had an extensive medical history including an addiction to prescribed painkillers and had used a string of aliases.
She telephoned the NHS out-of-hours service claiming to be the sister of then partner Craig Hadwin, saying she needed painkillers after being the victim of an assault.
Horne was prescribed two diazepam tablets. She then successfully obtained codeine phosphate tablets by giving the name of Cassy Hadwin.
Sleeping pills
Following a failed attempt to get drugs from a doctor's surgery in Ilchester, she then made an appointment for her husband at the Millbrook Surgery in Castle Cary.
Mr Askham said: "She posed as Craig Hadwin. She had short cropped hair, baggy clothing and the doctor believed her to be Craig Hadwin and he prescribed two sleeping tablets."
More painkillers were prescribed at Musgrove Park Hospital when she once again gave her name as Cassy Hadwin.
In December, Horne admitted all the charges at Yeovil Magistrates' Court and was sent to Taunton Crown Court for sentencing.
Defending, Rebecca Bradbury, said: "She has worked extremely hard and she is now in a position in her life which has reached the point of stability, which she has not had since childhood."
Record Jonathan Barnes said: "You have come terribly, terribly close to being sent to prison. This will be the last chance.
"If you come back before the courts for any further offences of this kind - and I am talking about the obtaining of prescription drugs from the NHS by deception - I do not have the slightest doubt that the judge dealing with you will send you to immediate custody."