Bath philanthropist Ralph Allen's life celebrated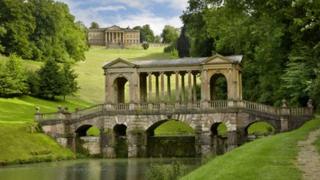 The life of 18th Century philanthropist Ralph Allen has been celebrated in Bath as part of plans to restore his tomb.
Born in Cornwall in 1693, Allen moved to Bath around 1710, where he became postmaster at the age of 19.
After improving postal routes around England, he acquired the quarries at Combe Down and Bathampton Down, whose Bath stone was used to build the city.
The National Trust, Prior Park College and various museums organised the celebration.
Allen built the Prior Park mansion, which is now home to Prior Park College, for himself and provided cottages for quarry workers.
He also built the city's Mineral Water Hospital.
Talks, walks and displays took place earlier, at Prior Park College.
Funds raised will go towards restoring the crumbling stone and iron work of Allen's mausoleum at Claverton.