Parents call to cut speed limit by Frome's Berkley school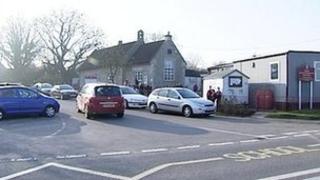 Parents and teachers have called for a speed limit on a road next to a primary school in Somerset to be lowered.
The road by Berkley C of E First School in Frome has a 60mph speed limit which campaigners want reduced to 30mph.
Head teacher, Carol Brautigam, said: "These are our children, this is our safety and it should be different for schools."
The school has approached the police and county council who have said they are now investigating the issue.
A county council spokesman said: "We are currently investigating the request to lower the limit to 30mph and we are working with the police to see what is appropriate at this location.
"We have recently completed a traffic survey of vehicle speeds and investigations are ongoing."
Avon and Somerset Police said the force had been consulting with the school and council on a range of safety measures but the final decision would be left to the council.