Hundreds of herons nest in Somerset wood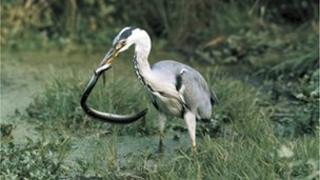 More than one hundred heron nests are expected at Swell Wood, near Taunton, this spring, a bird charity has said.
The woods, run by the Royal Society for the Protection of Birds (RSPB), is home to the largest breeding site for herons in south-west England.
Swell Wood is popular because the trees are large enough to carry the weight of the birds.
RSPB warden Steve Ross said: "It's a great big pile of twigs on top of a tree, it's quite a sight to see."
Apart from herons, more than 12 pairs of little egrets are expected to return to nest at the wood.
Mr Ross added: "The little egrets are a fairly new breeding species in the UK. They first started recolonising the south coast in the mid-1990s. The numbers have been increasing throughout the area.
"We had 12 pairs last year nesting at Swell Wood. These are fairly white birds so you can see a brilliant flash of white at the tops of the trees."