Weston-super-Mare Punch and Judy show gets new homes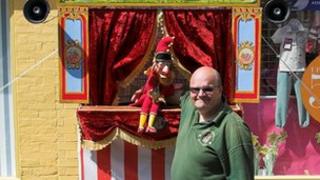 A Punch and Judy man whose pitch on Weston-super-Mare beach was under threat has held his first performances in new locations.
Paul Wheeler said he would struggle to "make ends meet" after North Somerset Council increased the ground rent for the season from £100 to £150.
Following media reports, Weston-super-Mare Museum stepped in to offer him a place to perform, free of charge.
Mr Wheeler has also been performing at the town's Grand Pier.
Mr Wheeler ran a Punch and Judy show on the seafront since 2003 and was the sole puppeteer left there.
'Donations to charity'
He held two shows at the museum on 31 March and 7 April and performed at the Grand Pier over Easter.
He said he hopes to perform there for the Queen's Diamond Jubilee and during July and August.
Adam Brown, acting manager of the museum, said: "It was very important for us to try and save Punch and Judy in Weston as part of the seaside heritage of the town and the enjoyment of the kids.
"He [Mr Wheeler] has very kindly said he will pass around his hat after shows and donations will go to one of the mayor's charities."
Mr Wheeler said he had given a £100 donation from a well-wisher to Weston Hospicecare.
"I've never done it for the publicity," he said.
"The people of Weston-super-Mare have been fantastic."