Crackdown on 'obstructive' advertising boards in Bath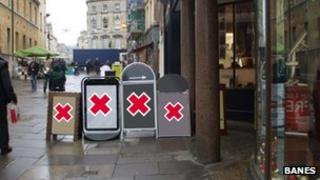 Advertising placards, known as A-boards, placed outside shops in Bath now have to conform to new council-imposed size constraints.
Bath and North East Somerset Council is concerned there are too many on the pavements, obstructing shoppers
New rules include only one A-board per frontage with at least 1.5m (five feet) of footway for pedestrians.
A verbal warning will be followed by a £50 fine for businesses which flout the rules.
"We've had a lot of businesses, even with a verbal discussion, who have moved their A-board into a suitable location," said Liberal Democrat councillor David Dixon, in charge of neighbourhoods at Bath and North East Somerset Council.
'Not just a draconian approach'
He added: "We're quite pleased actually at the reaction from a good number of businesses out there who have responded to the guidance we've sent out.
"We're trying to work with businesses, not just take a draconian approach."
But Bath resident Henry Brown, who chairs the Federation of Bath Residents Associations and has recently submitted a report to the council regarding the issue, said there there was still a lot of work to do.
"We do welcome the rules. They are sensible rules but they're no use unless they're complied with," he said.
"The evidence is that there are lots of businesses who are not complying with them.
"Within about five minutes walk of where I live, I counted 10 premises with non-complying boards one afternoon this week."
Mr Dixon admits there is still "a bit of work to do."
"It's still early days. We have our enforcement officers [three for the district] visiting these properties where the biggest issues are and we're working through them."