Druid banner rescued from Somerset attic to go on show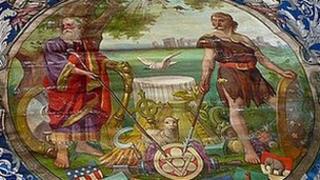 A 14ft (4m) banner used to promote the work of a Druids' society in a Somerset town is to be exhibited after lying in an attic for more than 80 years.
The silk banner belonged to the Bridgwater Independent Druids' Friendly Society and was rescued from the town's Labour Party Offices.
Councillor Brian Smedley said the society "predates the NHS and provided sickness, unemployment and funeral benefits for Bridgwater's poor".
It will go on display at the Town Hall.
Measuring 12ft (3.5m) by 14ft (4m), one side of the banner depicts "mythological imagery", including ancient Britons, Stonehenge and an all-seeing eye.
The other side features a Victorian family afflicted with sickness with the inscription "I was sick and ye visited me".
"It was designed by George Toothill, who designed a lot of these type of silk banners in the 1890s, and was taken on demonstrations and marches," said Mr Smedley.
According to Mr Smedley, the town's Druids "collected money and provided money for people in need, sick or for funeral care".
"It was a very strong organisation in Bridgwater in the 1890s to the middle part of the 20th Century," he said.
"In the first 10 years there were 1,100 people registered with the Druids and by the First World War that had risen to 2,000.
"It was only when the National Health Service came in that people didn't so much need these type of organisations," he added.