Pets ban for Somerset cruelty pair with 69 animals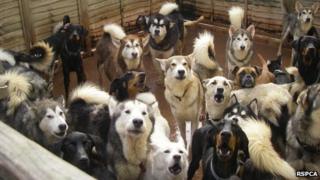 A couple have been banned from having animals for eight years after allowing their 69 pets, including 56 large dogs, to live in squalid conditions.
Nicola Hood, 31, and James Hood, 40, of Queens Road, Minehead, admitted nine counts of animal cruelty last month.
The couple's baby was found in a bed with sheets soiled with bird droppings.
Taunton magistrates gave them a two-year conditional discharge and ordered them to pay £250 each in costs, which will go to the RSPCA animal charity.
'Sea of dogs'
The conditional discharge means they will be re-sentenced if they breach the conditions of their release.
During the sentencing, Ian Denley, defending the couple, said they thought of the house as an "animal sanctuary" and were "devastated" by the loss of the dogs.
"The irony of this case is that both Mr Hood and Mrs Hood are animal-loving people," said Mr Denley.
"Clearly this enterprise got out of control and both my clients accept that was the case."
The family currently have two gerbils, two hamsters, a cat, a lizard, four cockatiels and a Green Amazon parrot, the court heard.
Mr Denley said since the court proceedings began, the family had received death threats and had bricks and eggs thrown at their house.
'Smell of ammonia'
Speaking outside the court, RSPCA inspector Amanda Swift said: "There were far too many animals for such a small property.
"This case highlights the need for a scheme to properly register dogs."
When the RSPCA officers raided the four-bedroomed semi-detached house in October they said they were immediately hit by a "strong smell of ammonia" after entering the "dirty" house.
After opening the living room door, RSPCA officers found themselves "swamped by a sea of dogs".
The pair had 56 dogs, including huskies, German shepherds, Rottweilers and Staffordshire bull terriers, three cats living in the bathroom, six birds, including love birds, in dirty cages, and four chinchillas.
During a hearing on 30 March the couple both admitted three charges of causing unnecessary suffering to animals and six of failing to take reasonable steps to ensure the needs of the animals were met.
'Endless noise'
The court was told the couple's five children were at risk of contracting disease from the animals.
The nine-month-old baby was found in the bed with soiled sheets during the raid by RSPCA officers.
The prosecution told the court in March many of the animals had been suffering from complaints affecting their eyes, teeth, ears and skin, some of them for up to a year.
Neighbours complained of endless noise from the dogs and said the smell was so bad, it stopped them going in to their own gardens.
Most of the dogs have been rehomed and eight remain at the RSPCA centre at West Hatch.
Somerset County Council said it was made aware of the family and dealt with the issue of child safety.