Priddy Stone Circles damage admitted by Roger Penny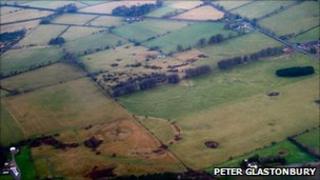 A man from Somerset has pleaded guilty to damaging a prehistoric monument near Wells.
Roger Penny, 74, appeared before South Somerset and Mendip Magistrates' Court charged in connection to damage to one of Priddy Stone Circles.
The court was told the damage took place between April and October 2011.
Penny, of The Grange, Back Lane, Chewton Mendip, is due to appear before Taunton Crown Court on 18 May for sentencing.
The court heard work had taken place on land next to the B3195, known as Stable Cottage and Huntsman Cottage, which contained the southernmost circle of the monument.
Mr Penny was charged in connection with causing or permitting work without scheduled monument consent or development consent contrary to Section 2(1) of the Ancient Monuments Archaeological Areas Act 1979 .
According to Somerset County Council, Priddy Circles is one of the most important prehistoric monuments in the county and was constructed approximately 5,000 years ago.