King James I painting to go on show at Montacute House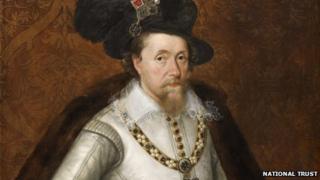 A 17th century painting of James I is returning to Montacute House in Somerset after being restored.
The portrait by John de Critz was given as a gift to his supporter and former Speaker of the House of Commons, Sir Edward Phelips, about 400 years ago.
The picture was originally hung in the house, but was sold before the National Trust acquired the mansion in 1931.
It was bought at auction by the National Trust last July for £199,250 thanks to a bequest.
Sonja Power, from Montacute House, said: "The painting is a magnificent portrait of James I, with astonishing detail in his clothes, right down to fine detail in individual pearls.
'Pride of place'
"We imagine it would have been given pride of place by Sir Edward when he was given it so we decided we should give it a special prominence in the galleries here.
"We sent the painting away for conservation work and detailed investigation and as a result there is so much we'd like to tell people about it - including x-ray photographs which have revealed an under drawing."
The trust said the painting was bought thanks to the bequest of a room guide at Montacute, Miss Moira Carmichael, who worked there for over ten years.
Montacute House was built for Sir Edward Phelips in the late 16th Century. A National Trust spokesman said the picture had originally been "sold long before the Trust acquired Montacute in 1931".
Sir Edward Phelips was one of the prosecutors in the trial of Guy Fawkes in 1605.