Crowds cheer Queen and Duke of Edinburgh visit to Somerset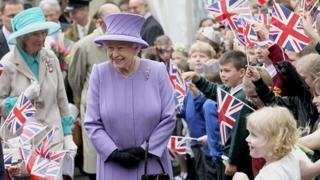 Hundreds of people turned out to cheer the Queen as she arrived in Somerset on the final day of her Diamond Jubilee Tour of the South West of England.
Accompanied by the Duke of Edinburgh, the Queen arrived in Yeovil by train and attended a special fair at Ninesprings Country Park.
The royal party then went to Crewkerne to view displays of local produce.
The last time Her Majesty visited Somerset was in 2002 to mark the Golden Jubilee.
Several hundred people were at Ninesprings Country Park to welcome the royal couple, who toured stalls at the Jubilee Country Fayre.
Jubilee cake
The Queen was also introduced to a police horse called Harry Patch, named after the last British soldier to survive the World War I trenches.
Mr Patch, who passed away in July 2009 - aged 111, fought in the Battle of Passchendaele at Ypres in 1917.
The royal couple presented the gelding, and fellow Avon and Somerset Police horse Jubilee, with their official name badges.
Before leaving, the Queen cut a special Jubilee cake designed and baked by food and hospitality students at Yeovil College to mark the royal visit.
Students had also made 500 cupcakes to be handed out to local schoolchildren at the fayre.
The royal party then travelled by car to Crewkerne Town Hall, where they saw a display of local history before leaving Somerset by helicopter to travel to Exeter city centre.