'Floods 8ft deep on Somerset Levels damaging farmland'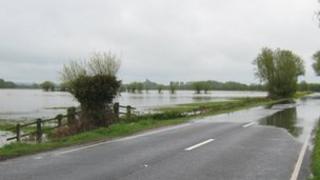 Floodwater up to 8ft (2.4m) deep is badly damaging land on the Somerset Levels, a farmer says.
Although flood defences are working, water from Currymoor has spilled out on to the nearby A361.
Farmer David House said: "We've got 8ft of water on the land and it will take at least six weeks to get off Currymoor."
The Environment Agency (EA) said river levels needed to recede before water could be pumped off the Levels.
'Huge area'
"We're losing the spring growth, the grass and hay that comes off the Levels for next year's winter fodder for the livestock," added Mr House.
A spokesman from the EA said: "The risk of property flooding has now passed and we have to deal with the significant amount of water which is now stored in the flood plain on the Somerset Levels.
"Due to the nature of Somerset and historic drainage practices, the only way this water can be removed is by pumping.
"In order to start this operation we need to ensure the levels in the river are sufficiently reduced so when pumping we do not increase flood levels downstream."
It could take more than six weeks before the land can be used again.
Mr House farms about 50 acres of land on Currymoor.
"Currymoor is a huge area of water - around 1,200 acres - all of which has to be pumped off, there's no other way of getting this water out," said Mr House.
'All the worms'
"They [Environment Agency] can't do much more about protecting the area but they are taking too long to take the water off the land, this is the critical point.
"It kills off all the worms, the grass seeds and the ground nesting birds have been annihilated, really, it's bad for farming and wildlife."
The A361 between East Lyng and Glastonbury has been closed until Saturday because of floodwater running on to the road.
Motorists have been warned not to drive along this stretch, as the water levels are not known.