Couple in Somerset withdraw church bell complaint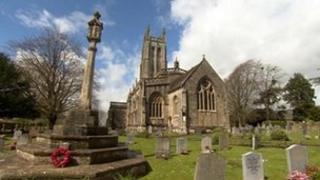 A couple who had a chiming church clock silenced because it kept them awake at night have withdrawn their complaint.
The clock bell at the 15th Century All Saints Church in Wrington in Somerset had rung every 15 minutes for decades.
But following complaints from new neighbours, Jonathan Apps and Tina Hallett, a Noise Abatement Notice was issued by North Somerset Council.
Now the couple say they have found "public reaction very distressing" and "do not wish to pursue the case".
In a joint statement with All Saints' Church Wrington, Mr Apps and Miss Hallett said they had received "threatening and offensive letters" and "been the focus of some malicious comments on social media".
It went on to say that the couple had not asked for a Noise Abatement Notice to be issued and had "never intended to cause any offence to the local community or any members of it".
The statement added that the church "deeply deplores any threatening behaviour that has been directed towards Jonathan and Tina" and "will continue to work to remove the Noise Abatement Notice served by North Somerset Council".
The chimes had been temporarily switched off for a refurbishment when the couple bought their house in October. The sound was switched on again in November.
After receiving the complaint, council officials told the vicar Nicholas Maddock the bell must not be allowed to chime between 23:00 BST and 07:00 BST.
But church leaders said they had to silence it completely because the bell's computer software could not be programmed locally to stop it chiming at night.