Glastonbury Abbey excavations find Saxon glass industry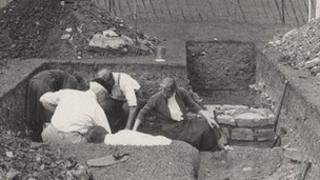 New research on glass fragments found at Glastonbury Abbey in the 1950s reveals the earliest archaeological evidence of glass-making in Britain.
Researchers from the University of Reading carried out radiocarbon dating on finds from the digs.
Clay crucibles and pieces of vivid blue-green window glass were tested.
The results show the pieces date from the 680s and are likely to be associated with a major rebuilding of the abbey by King Ine of Wessex.
The research team believes specialist glass workers came from France to work at Glastonbury.
Analysis of the glass is now being carried out to find out where the source materials came from.
Extensive remains of five glass furnaces have also been identified.
Prof Roberta Gilchrist from the Department of Archaeology said: "The research project reveals new evidence for the early date of the monastery at Glastonbury and charts its development over one thousand years, from the 6th century to its dissolution in the 16th century."
Glass-making at York and Wearmouth is recorded in historical documents in the 670s but Glastonbury provides the earliest and most substantial archaeological evidence for glass-making in Saxon Britain.
The story of the Abbey's pioneering role in medieval crafts and technology is outlined in an exhibition at Glastonbury Abbey Museum which runs until 16 September.