Wading birds enjoy feeding boost on Somerset Levels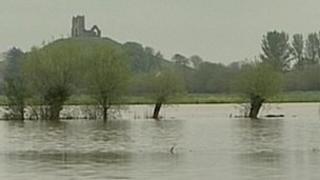 Snipe and Redshank wading birds which make their home on the Somerset Levels may have a bumper breeding season after floods left the ground soft and wet.
The RSPB says the conditions are right for the birds to get worms.
"If the birds were nesting (before the floods) they will lay again so if the ground stays wet it could be a good season," said Tony Whitehead.
Excess water is pumped from the Levels into the River Parrett preventing breeding grounds being devastated.
"Two weeks ago the story was about drought," said Mr Whitehead.
"We had genuine concerns had the floods continued wading birds like Snipe, Redshank and Redwing would have had a dreadful year as they can't deal with dry weather.
"Two days later and we were inundated," he said.
Traditionally the Somerset Levels have been managed to allow flood waters to deposit rich silt to feed the land with excess water pumped away into the river system.
"The situation in West Sedgemoor is different from places like the Ouse washes which were devastated by flooding because we can move water off the area quickly," said Mr Whitehead.
"Due to this conditions are much better than when we had drought," he said.
"Snipe and Redshank are of conservation importance and we need to do better for them so fingers crossed for a good season," he added.