Arson attack numbers 'down in Somerset' since 2009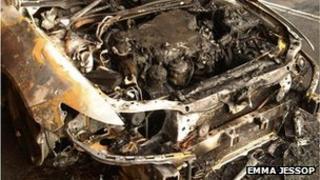 The number of arson attacks has fallen over the last three years in Somerset, a BBC investigation has revealed.
The figures, from a Freedom of Information request to Avon and Somerset Police, show a drop in deliberately-set fires, year-on-year.
There were 298 cases in 2009, 243 cases in 2010 and 222 in 2011. A total of 42 people were charged with arson.
Devon and Somerset Fire and Rescue investigated 1,137 further deliberate fires that were not reported to police.
An Arson Reduction Officer, set up by the service in June 2011, was helping to reduce the number of cases, it said.
"The majority of deliberate fires in this area are small, mainly rubbish and waste types of fire," said Paul Slaven from Devon and Somerset Fire and Rescue Service.
"[But] service takes them very seriously and treats them as acts of anti-social behaviour."
In an attempt to reduce these types of incidents, Mr Slaven said the service was working with schools highlighting the dangers of fire.
"Fires started deliberately can be particularly dangerous because they generally develop much faster," added Mr Slaven.
'High priority'
Ch Insp Norman Pascal said all deliberate fires were a "high priority", but accepted the vast majority in Somerset are of a "low-level type nature".
"Those [though] where there's endangerment to life, I believe that a large number of those individuals are identified and prosecuted," he said.
Emma Jessop, from Chard, fell victim to one of the more serious incidents when her car was set alight outside her house last month.
"I try not to let it affect me," she said. "Obviously I try to keep things as normal as I can, especially with a little one.
"We used to go out whenever we wanted. I can't do that now, I'm too scared.
"Even if I walk outside my house sometime, I think 'Who is behind me?'."