High number of heron nests built in Somerset wood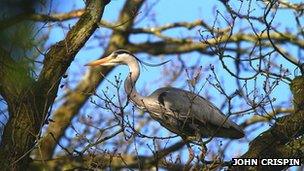 Herons have built 73 nests at Swell Wood in Somerset this spring, a bird charity has said.
Warden Steve Ross from the Royal Society for the Protection of Birds (RSPB) said numbers this year had already passed last year's total.
The RSPB wood, near Taunton, is home to the largest breeding site for herons in south-west England.
It is popular with the birds in breeding season because the trees are large enough to carry their weight.
Heron numbers fluctuate from year to year depending on weather and food availability.
Mr Ross said: "Historically we have had approximately 100 nests year on year, but the cold winters of the previous two years did result in numbers dropping."
He said that although the warmer weather this year had seen heron numbers increase, the recent wind and rain has affected the speed in which nests are built.
"The recent bad weather has delayed nest-building but more are being built all the time," he said.
"Many of the nests have chicks in that can be heard by their faint but fairly constant 'chuck-chuck-chuck' sound."
Mr Ross added that apart from herons, little egret numbers are up to nine nests with more being built as the season continues.
He said: "The little egrets are a fairly new breeding species in the UK. They first started recolonising the south coast in the mid-1990s.
"The numbers have been increasing throughout the area."
Related Internet Links
The BBC is not responsible for the content of external sites.