Weston General and Royal United Hospital clear of MRSA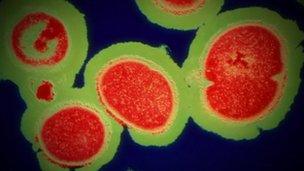 Two hospitals in Somerset say they are now completely clear of the potentially lethal superbug MRSA.
Over the past year no patient has contracted the bug at either the Weston General Hospital or the Royal United Hospital (RUH) in Bath.
MRSA cases in Bath have fallen from 35 in 2007 to zero since May last year.
Since screening for MRSA was introduced nationally in April 2009, the number of hospital-acquired infections has more than halved.
The RUH introduced screening several months earlier.
Carol Grimsdale, the RUH's pre-operative assessment manager, said: "It's very good for the patient because we can all potentially carry MRSA on our skin.
"It's when it actually gets into wounds that it causes problems with the infections and they then become very hard to deal with and actually to heal."
Related Internet Links
The BBC is not responsible for the content of external sites.