Hinkley Point C plant 'could cost Bridgwater economy £47m'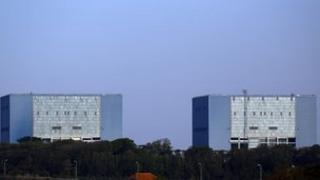 Traffic congestion caused by the building of a new nuclear power station in Somerset could cost the Bridgwater economy £47m, it has been claimed.
The figure was quoted by Sedgemoor District Council at a Planning Inspectorate public meeting earlier.
EDF Energy submitted plans for the Hinkley Point C plant to the Infrastructure Planning Commission (IPC) last October.
The company says the overall impact on the economy will be positive.
Doug Bamsey, from Sedgemoor District Council, said it was "very important" that organisations which deliver food and other "vital supplies" were not affected.
"We all know that congestion is a factor that people consider in terms of where they locate their business," he said.
'Rising tide'
The meeting, in Bridgwater, also heard that businesses and tourists could avoid the area because of clogged up roads.
David Eccles from EDF, said the company was producing a "massive opportunity in terms of economic development for the region".
"A rising tide lifts all ships," he said.
"We'll be putting £100m into the economy locally for every year of construction and £40m for every year of operation.
"And that's a lot of money in anybody's language."
Other public meetings were held in Cannington and Combwich earlier in the month.
Another public meeting is due to be held in Stogursey on Thursday.