Fewer accidents in Somerset despite speed camera turn off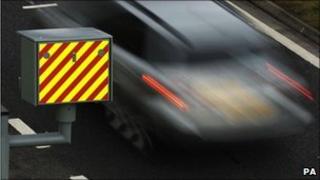 The number of accidents on Somerset's roads, where speed was a factor, dropped by 31% last year, despite fixed enforcement cameras being turned off.
Figures obtained by the BBC from Avon and Somerset Police show 109 accidents happened between April and December 2011, when cameras were off.
There were 159 such incidents in the same period in 2010.
All fixed cameras in the county were switched off on 1 April last year. Only mobile ones have been used since then.
The figures also show 59% fewer drivers were caught speeding by mobile cameras in 2011 compared to the previous year, and the total number of accidents in Somerset fell by 11%.
Supt Ian Smith from Avon and Somerset Police said: "One of the central reasons over the last few years is linked to economics and the recession.
"Nationally accidents are down whether cameras are on or off, and a lot of that is to do with fewer drivers and fewer vehicles being on the roads because of the cost of fuel and the cost of running vehicles."
Philip Gomm, from the RAC Foundation, said: "There is a national trend of falling and reducing casualty rates."
He said many of the cameras remain in place and drivers may believe they are operational.