London 2012: Bath Olympic torchbearer gave birth last week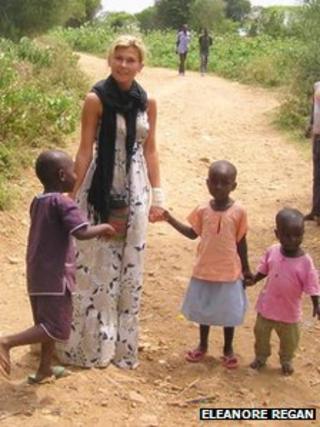 A woman who was expecting to carry the Olympic torch while pregnant has now given birth but said she will still take part in the relay later.
Eleanore Regan, from the Lansdown area of Bath, is due to carry the flame in Bath along a 300-metre stretch.
Mrs Regan, who is currently battling a brain tumour, gave birth to her son William last week.
"I am still going to take part and I am really looking forward to it," she said.
"I won't be running, though, I will be taking it easy and will walk my allocated slot.
"I am really glad my family will be there to watch, including my new addition."
The 28-year-old charity worker, who founded Challenge Africa in 2006, was selected by Locog for her work in the UK, Eastern Europe and Africa.
She had been nominated by a group of friends.
Mrs Regan is one of 8,000 people who will carry the Olympic torch in the UK.
The relay began its 8,000-mile journey around the UK at Land's End, Cornwall, on 19 May and reaches the Olympic Stadium in London on 27 July.
Mrs Regan was diagnosed with a brain tumour last year and said she felt the battle had made her grab opportunities, such as taking part in the relay, with both hands.
Speaking before the birth of her son, she said: "I do enjoy saying 'yes' to things, it's way more fun. That's why I'm probably doing this torch bearing very, very fat or with a baby.
"I feel really lucky because it [the tumour] has made me appreciate everything. We think it's come back but I dealt with it last year, so I'll deal with it again."
As well as working on community projects in Africa with her charity, Mrs Regan also supports social service teams and ex-offenders in the UK, and has helped to establish a community cafe in Bristol.
"This is such a great time for the country," she said. "I feel proud to be able to carry the flame amongst such inspirational people and in such a beautiful city.
"It's such a great experience.
"I lived near somebody who had a house called Torchbearer Cottage when I was growing up. I won't be going that far but it's a bit of fun isn't it and I'm very proud."