Parking charge changes in Weston-super-Mare approved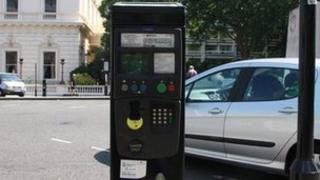 Changes to proposed street parking charges in Weston-super-Mare have taken another step forward.
The original proposed tariff would see motorists charged 40p for the first 20 minutes then 20p for each further 20 minutes up to a maximum of two hours.
But amid concerns shoppers will be put off, the council now proposes 20p for 20 minutes and £1 for up to an hour.
Council officials insist the charges are needed to increase the turnover of spaces rather than to make money.
Last month Conservative-led North Somerset Council said it would install parking meters on some roads in the seaside town in an attempt to reduce congestion.
It also hopes making off-street parking at Melrose and Grove Park short stay car parks slightly cheaper for a two or three-hour stay will encourage shoppers who want to browse for longer to find spaces there first.
The meeting on Wednesday backed the plans and a public consultation will now take place in June.
A council spokesperson said the new charges would operate between 09:00 and 18:00 from Monday to Saturday and residents would be able to buy a permit to allow them to park outside their homes.