Final preparations for Weston-super-Mare sand sculpture event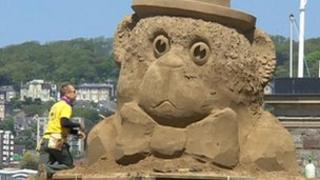 Final preparations are being made in Weston-super-Mare ahead of the town's sand sculpture festival.
Some 4,000 tonnes of sand has been dragged along the beach for the annual event, which is due to run from 1 June.
This year's giant sand art display, created by 15 international artists on the theme Fun and Games, is being funded by the event's organisers.
The annual event had been under threat after North Somerset Council said it could no longer fund the festival.
Nicola Wood and co-organiser Alec Messchaert said they had "worked on the event since year one and know what it means to the locals".
"We have always had our own ideas about the festival and are excited about bringing some new things to the event and we promise to make this year the one to remember," she said.
The festival opens on the Queen's Jubilee weekend, which will be marked with the unveiling of a special Jubilee Sculpture of the Queen.
Councillor Felicity Baker, from North Somerset Council, said: "This is a really successful event - last year almost 60,000 people visited and once again there was media interest from around the globe.
"This is art people can join in with as our sand is great for sculpting and the experts will be on hand to give tips and advice."
The exhibition is due to run until 9 September.