Photos of dead child lost in suspected arson attack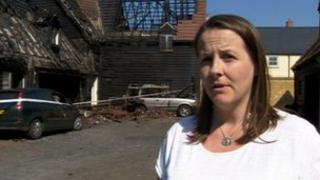 A mother from Somerset has had all her mementoes of her dead child destroyed in a suspected arson attack.
Fire crews were called to Abbot Lane in Shepton Mallet at about 01:00 BST on Wednesday and spent several hours tackling the blaze.
At least four homes were destroyed in the fire, which also wrecked a number of cars and garages.
Bereaved mother Chloe Kennedy appealed for anyone with information to come forward.
She said: "We've lost stuff in there that's so sentimental to us.
"We lost a child last year and all our mementoes of him were in there."
Nobody was injured in the blaze. A police investigation is under way.