Jubilee bunting ban for lamp-posts in Burnham-on-Sea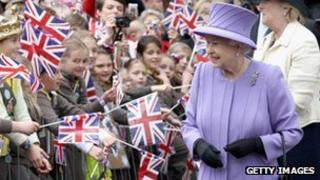 Bunting cannot be hung along high street lamp-posts in a Somerset town due to health and safety fears.
The Chamber of Trade in Burnham has been refused permission by Somerset County Council to hang 750m of bunting.
Chamber secretary Jonathan Walter said: "We have put a bit more pressure on them to justify how they think the bunting is going to cause any damage or risks to pedestrians."
The council has said the bunting can only be hung from shop fronts.
A spokesman said: "Somerset County Council is very happy to help local councils put up bunting to celebrate the Diamond Jubilee and other events.
"We recommend councils use their existing fixing points for Christmas lights, CCTV cameras or such like.
"Last year a lamp-post came down in London, killing a child, and it's important we avoid a similar tragedy in Somerset."
A spokesman from the Health and Safety Executive said it was "wholly inappropriate" to link the two situations.
"This is a classic case of health and safety being used totally inappropriately as an excuse for excessively risk averse behaviour," he said.
"Hanging lightweight bunting from lamp-posts is a low risk activity and to suggest that it may cause lampposts to fall over is ridiculous.
"The case in London that the article appears to refer to is one that involved work-related activity."
'Singled out'
Mr Walter said: "It's just standard bunting, it's not anything other than that, the lamp-post and street furniture belong to the county council and they weren't happy with it.
"I'm in disbelief - it's like everyone thinks, it's just a bit of bunting what damage can it do? But they were adamant and we were told we didn't have permission to do it."
The bunting has been paid for by the town council's Diamond Jubilee committee and Burnham Chamber of Trade and Commerce is paying the cost of putting the bunting up along the pedestrianised areas of the high street.
"No-one wants anyone to get hurt by any bunting, but bunting has been used for years and years," Mr Walter said.
"I'm sure it was used for the [Queen's] Coronation, I'm sure we didn't need certificates of approval then.
"It does wind me up and I've been watching the torch relay and everywhere you watch there is bunting... I don't know why we are being singled out like this."
The town clerk at Burnham Town Council, Eileen Shaw, said she hoped to resolve the situation with the county council.
She added that it was the Chamber of Trade which wanted the bunting on the lamp-posts, but not the town council as it would require a licence.