Somerset County Council wins £3.8m cycle transport grant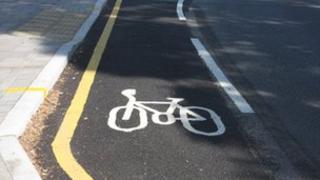 Nearly £4m will be spent on a new cycle route and cycling projects in a Somerset town.
The county council has secured a government grant for Bridgwater to boost cycling and walking in the town.
Part of the £3.8m grant will also be spent on street design to improve road safety and cut crime.
Transport Minister Norman Baker said: "If we get more people moving to cycling or buses, it takes more people off the roads and eases congestion."
Deputy leader at Somerset County Council, David Hall, said: "I think it's a very positive way to spend £4m.
"Bridgwater has had its challenges in the past particularly around employment, but there are a lot of good things going on at the moment.
"There are a lot of new employers coming to the town, we're obviously all aware of Morrisons, Mulberry have announced they are coming, and if it goes ahead, all the additional employment and traffic movement around Hinkley Point."