Squacco heron seen at Blagdon Lake and Chew Valley Lake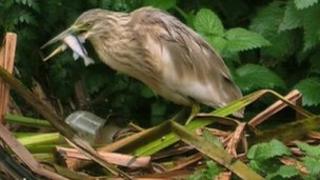 A bird rarely seen in Britain has been spotted at two reservoirs in North Somerset.
The adult squacco heron was first spotted by birdwatchers on 6 May at Blagdon Lake and further sightings have also been reported at Chew Valley Lake.
Ornithologist Ed Drewitt described the spotting as "significant".
"There's a good population in France and Spain and as they expand their population they pop over and visit," Mr Drewitt said.
"The Chew Valley and Blagdon Lake area - and further south on the Somerset Levels - provide a great habitat with reed beds and grass fields for them to feed.
"Over the next decade we can expect to see more species to come over."
Birdwatchers believe the bird is an adult which has not yet reached full breeding condition. It is thought the heron is still in the area but getting harder to spot as vegetation is growing taller and the water line recedes out of the meadows.
Patric Bulmer, environment manager with Bristol Water, said the arrival had caused a lot of interest in the birding community.
He said the company had been creating habitats which are good for both local species as well as those blown off course.
"Visitors to Blagdon and Chew often get to see rare or exotic species - the last visitor which caused much interest was a sharp tail sandpiper which was spotted at Chew," he added.