Diamond Jubilee: Cheddar attempts bunting world record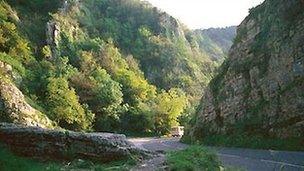 A Somerset village is getting in the Jubilee spirit by attempting to set a new world record for the longest continuous bunting.
Organisers in Cheddar are hoping to create a single string of bunting which will stretch up to 4,500m (2.8 miles) through the village and up the gorge.
Work on it began in February and the finishing touches will be made on Friday.
The current world record of 3,427.94m was set in London on 13 May last year.
The bunting is being prepared and stitched in 50m sections and is predominantly being completed by Lynne Hebborne, who runs a craft shop in the village.
'Extraordinary challenge'
Pupils from Cheddar First School and Axbridge First School are individually decorating more than 1,000 white pendants for the bunting.
Cheddar Gorge and Caves are also providing 1,500m of bunting to help set the new record.
The record attempt will start at Lanes Home Hardware store where the bunting will apparently emerge out of a 1950s television screen before winding its way through the village.
The plan is for the bunting to finish close to the entrance to the Cheddar Caves.
Climbing instructors from the attraction are aiming to traverse the gorge with union jacks as a finale.
The record attempt is being led by the Cheddar Traders Association and supported by the parish council, local traders and Cheddar Garden Centre.
Paul Lacey, chairman of the association, said: "This has truly been an extraordinary challenge that we've set ourselves and it simply would not have been possible without the support and encouragement of the entire community.
"We're delighted and extremely proud of what the village is achieving and we hope it will be a fitting way to celebrate the Queen's Jubilee."
In order for the record to be recognised, organisers will have to take hundreds of photos to prove the bunting is continuous.
They will also have to provide a sworn statement, witnessed by a solicitor, and employ the services of a quantity surveyor to accurately measure the total length of the bunting.
Related Internet Links
The BBC is not responsible for the content of external sites.