Call for tougher sentencing for distraction burglaries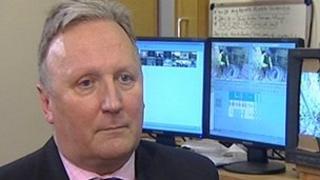 Every distraction burglary is a potential murder, the chief constable of Avon and Somerset Police has said.
Colin Port has called for 10-year jail terms for those convicted of the offence because it mainly affects the vulnerable members of society.
He said the jail term should be given to "middle-aged men in the main, who have preyed upon their society".
Mr Port was sharing his views in a talk about policing issues in Somerset.
Mr Port described distracted burglars as "callous cowards" who broke the trust of people who were mainly elderly or had learning difficulties.
"Every distraction burglary is a potential murder.
"All it needs is for them to say you're not coming into my house - they're pushed to the side, they fall down, they break their leg... sometimes they never come back to their own homes, it's diabolical."
The presentation was held during a scrutiny meeting at Somerset County Council.