Farming and fishing jobs 'rise by 60% in Somerset'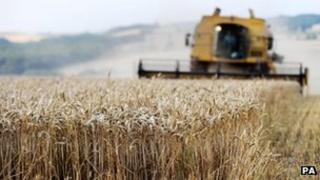 Employment in agriculture and fishing in Somerset has increased by almost 60% in three years, according to a county council report.
There were 10,100 people employed in the sector in March 2011 compared with 6,400 in March 2008 - a rise of 57.8%.
The rise came at a time when total employment in the county fell by 4.9%.
NFU President Peter Kendall said: "There's been a massive change from an industry that, if you go back 10 years, had BSE and foot-and-mouth."
He said: "There was an industry that was pretty unsure of itself, that was pretty downbeat but, with the growth in jobs and new business start-ups in Somerset over the last three years, we've got a great story to tell."
Last year agricultural engineering exports, like tractors and other machinery, from Somerset rose by nearly 20%.
And Companies House said that last year there was a 45% increase in new agricultural companies registering with it nationally.
'Food shortage'
John Davies, director of De Lacy Executive which specialises in agricultural recruitment, attributed the rise to a greater understanding and confidence in "the industry's role in feeding the world because there's world food shortage".
But he said the industry was too exclusive and warned the current boom would not continue unless people from outside the industry were employed with new ideas.
"While family farming and family businesses are a very important and core part of it, the industry is also heavily occupied by serious independent businesses that need expertise," he said.
"There are many people who want to join the industry but the industry doesn't easily give them the openings in which to get that experience with which they can then become useful employees."
But Peter Kendall said the industry was not "a closed shop".
He said there were "some really exciting new entrants" at this year's Royal Bath and West Show, "not just having their own farms... but coming in and building careers".
Employment in the county fell from 252,600 to 240,300 in the same three-year-period.