The Last Jubilee punk festival in Bath cancelled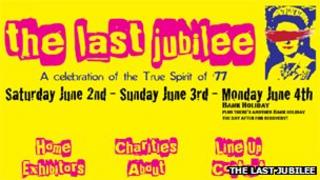 A row has erupted in Bath after a bank holiday punk festival was cancelled, two days before it was due to begin.
The Last Jubilee, which was due to take place from 2 to 4 June at the city's racecourse, was billed as a "celebration of the music of 1977".
One statement on the organiser's website , Jamonit Events, blamed Bath and North East Somerset Council.
The council said the cancellation was entirely down to Northern Racing, the owners of Bath Racecourse .
A racecourse spokeswoman said: "Unfortunately, the organisers [Jamonit Events] have failed to fulfil their contractual obligations.
"The racecourse has taken the difficult decision to withdraw the use of the venue due to breach of contract and health and safety concerns.
"It would not be appropriate to go into detail at present.
"However, there were a number of inaccuracies in the organisers' event management plan and sufficient evidence that services due to be provided by third parties would not be on site, meaning that we could not let the event go ahead."
'Pathetic demands'
In an early statement, Jamonit Events said "dark establishment figures" had put the brakes on the alternative Jubilee event, using "spurious health and safety legislation", while making "ridiculous claims and pathetic demands".
The company added that the spirit of 1977 had "shown it's [sic] ugly side" and claimed the council put a cancellation notice on the event.
However, this claim was rejected by a council spokesman, who said: "Bath and North East Somerset Council has not issued a cancellation notice for the event - no such thing exists in law.
"The decision to cancel the event is entirely that of Northern Racing which has done so as a result of the organisers failing to meet contractual obligations.
"It is the deadlines of Northern Racing that the organisers have been working to, not the council's.
"The council has never expressed any in principle concerns about the nature of the event."
'Out of pocket'
The early statement on the organiser's website was later changed and the original comments were replaced.
The new statement said Jamonit Events was "shocked" to be served with a "cancellation notice at 11:30am yesterday" [BST, Thursday].
"We understand the public's frustration and annoyance and please be assured we share your feelings," the new statement added.
"To say we are out of pocket on this is a massive understatement, so to suggest that this was some sort of 'scam' is really ludicrous."
The Last Jubilee was due to feature acts such as Buzzcocks, The Damned, Bad Manners, Hugh Cornwell and Ed Tudor Pole.
The racecourse is advising ticket holders to contact the outlet or agent at which they purchased tickets, to discuss refunds.
Tickets cost between £45 for a day ticket and up to £125 for a weekend ticket.
Jamonit Events said ticket buyers "will receive a full refund on your ticket purchases in due course".