Royal Bath and West Show attendance figures down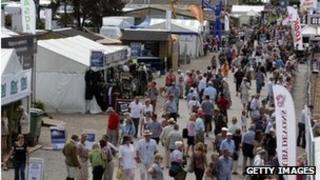 Attendance at this year's Royal Bath and West Show has been disappointing so far, its manager has said.
Just over 60,000 people attended during Wednesday and Thursday - about 21,000 fewer than last year - although figures were said to have improved on Friday.
Alan Lyons said he knew it could be a difficult year because the show, near Shepton Mallet, was not taking place at half term and was effectively competing with Jubilee events.
Saturday is the last day of the show.
Mr Lyons said: "We always knew it was going to be a tricky week.
"We are all kind of struggling to get everyone up for the Royal Bath and West because we are quite Jubilee and quite Olympic prepped, so I think that's been a problem."
But Mr Lyons said it would have been an "awful decision" to move the show to half term week.
He said: "All the shows in the country are very good at working together and if we had gone into that half term week we would have gone head-to-head with the Royal Cornwall Show, the South of England Show, the Suffolk Show and the Staffordshire Show, with us geographically in the middle.
"We would have lost exhibitors to the other shows."