Somerset students loaned bikes to help them get to classes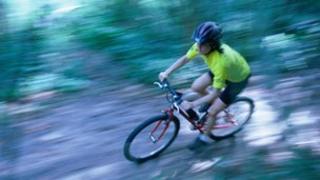 Sixth-form students in Somerset are being offered discounted bicycle hire in a bid to help them get to classes.
Project manager Hannah Fountain said it could be expensive for young people to get around and losing some bus services had made things more difficult.
She said it was hoped that loaning the students the new mountain bikes would help them get around more quickly, cheaply and sustainably.
The scheme is run by Somerset County Council.
Ms Fountain said some students had experienced real problems travelling to the six colleges and several schools which offer sixth form in the county.
"A number didn't have regular bus services or the bus stops early," she said.
"It's too far to walk two to six miles, young people want to stay a bit longer at college.
"Seventy-seven students got bikes with us last year and we're hoping it will be even more this year.
"It just feels great to be able to do something that's practical and helps people on an individual basis."
Students pay £40 to use the bike for a year, in addition to a £75 deposit.
At the end of the year, they can keep the bikes by forgoing the deposit.