Somerset schools find it 'impossible' to get cash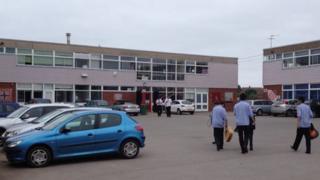 Somerset schools say they have missed out on cash for rebuilding classrooms because of government rules.
Last month the government announced which schools in England would receive cash from a new building fund but no school in the county was successful.
Some schools say they did not apply because the criteria was so limiting.
Chair of the county's Association of Secondary Head Teachers, Rob Benzie, said it was "almost impossible" to secure funding.
Head teachers say Somerset's secondary schools are desperately in need of new classrooms, or completely rebuilding.
Under the previous Labour government six county schools were originally told they would get funding for redevelopment, but the Building Schools for the Future scheme was cut back when the coalition government came into power.
Last month the government announced that 261 schools in England would receive money through the new Priority School Building Programme aimed at rebuilding the most dilapidated buildings.
'Need to expand'
All applications from Somerset failed to secure any cash. King Alfred School in Highbridge, Penrose Special School in Bridgwater and East Bridgwater Community School were all unsuccessful.
Rob Benzie, principal of Ansford Academy near Castle Cary and chairman of Somerset Association of Secondary Head Teachers, said some schools had been put off from applying.
"Meeting the government's criteria for new builds is almost impossible because it is linked almost solely to schools that need to expand their places," he said.
"A lot of the secondary schools are in rural areas where the school population is not growing."
A spokesman for the Department for Education (DfE) said: "It is unfortunate that some schools felt they could not apply - the Priority School Building Programme was open to all schools in England.
"Of those that applied, we have been able to take forward 261 schools to be rebuilt or refurbished and these are the schools in the very worst condition.
"We recognise that many schools will be disappointed, but we have had to take difficult decisions in order to target spending on those schools most in need."
The DfE added that schools that had been unsuccessful or did not apply to the programme could approach Somerset County Council for a share of £7.4m of maintenance funding.