Third chick confirmed for UK's first breeding great white egrets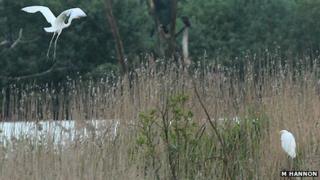 A third great white egret chick has hatched at a Somerset nature reserve, it has been confirmed.
The egrets, nesting at Shapwick Heath National Nature Reserve, are the first to successfully breed in the UK.
At the end of May it was confirmed that at least one chick had hatched and a few days later a second chick was spotted by reserve staff.
Simon Clarke, senior reserve manager, said: "These birds just keep surprising us, it's tremendous."
The third chick was spotted by staff on the reserve over the weekend, a Natural England spokeswoman confirmed.
"The nest is buried deep in the reedbed and under constant watch by a team of volunteers and visitors," she said.
"The other two young were observed taking their first flights over the adjacent reedbeds and have now been joined by the fledgling third chick."
Great white egrets, a species of heron, are rare visitors to the UK.
They can lay up to six eggs, one at a time, over a period of a few days.
'A waiting game'
The eggs then hatch over a similar period, depending on the day they were laid.
"This is the first UK breeding record so we didn't know really what would happen next or when," said Mr Clarke,
"We knew the eggs could hatch over a number of days but the location of the nest, deep in the reed bed, has meant a waiting game - to confirm the first chick, then a second and now a third.
"Watching these birds take their first tentative flights around the reserve is just a joy."