Bath bridge repair cost to be considered by council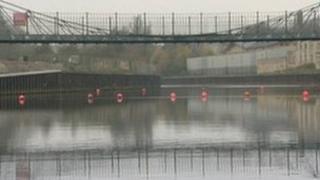 Council officers have recommended the approval of £2.5m of funding to repair a 19th Century footbridge in Bath which was closed because of safety fears.
Victoria Bridge, which links Upper Bristol Road to the Western Riverside, was shut in 2010 after engineers found defects in the structure.
A temporary fix "to limit the risk of collapse" was completed in May and allowed it to reopen to pedestrians.
Bath and North East Council will be asked to approve the cash on Wednesday.
The recommendation to spend £2.5m on repairs was made by council officers who said the repaired bridge could then be reopened in 2013.
The authority said £500,000 of the funding will come from money given to the council under development agreements for the Bath Western Riverside project.
Other funding will come from contingency money and loans.
The council report said there was a "significant risk" of "structural failure" following the bridge's closure in 2011.
Repair work could also include improvements between the River Avon towpath and nearby Victoria Bridge Road.