Somerset County Council to pay consultants £3m for cuts plan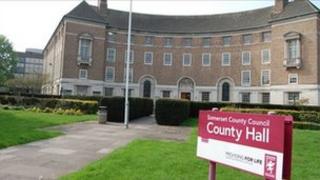 A consulting firm is to be brought in to complete Somerset County Council's cuts programme, at a cost of up to £3m.
Consultants will look at finding the "best value for money" for council services and check "whether the right structures are in place".
Conservative council leader John Osman said: "We don't have the people with the necessary skills to assist in this massive shift in the organisation."
The Lib Dem opposition said £3m should not be spent on consultants.
Opposition leader at the council, Sam Crabb (Lib Dem) said: "It's terrible, we shouldn't be spending £3m on consultants, we should be using our own staff, if we still had them, and we still had those staff with the skills to actually do this work.
"We are too lean to do the type of role that is being asked of them."
The council has now put the contract for the Change Programme out to tender with the consulting firm set to be chosen by the beginning of July.