Victoria Bridge repairs approved by Bath and North East Somerset Council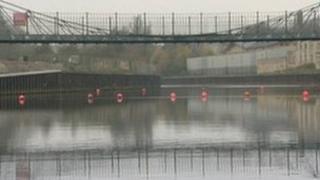 Council officers have approved £2.4m of funding to repair a 19th Century footbridge in Bath which was closed because of safety fears.
As part of the improvements, Bath and North East Council will remove and replace the existing Victoria Bridge and refurbish the support towers.
It was shut in 2010 after engineers found defects in the structure.
A temporary fix "to limit the risk of collapse" was completed in May and allowed it to reopen to pedestrians.
The council said the agreed works - option one - would retain structural form and improve the structural performance of the bridge, which links Upper Bristol Road to the Western Riverside.
Work will begin in April 2013, when it will temporarily close again to the public, and is due to be completed in April 2014.
They had hoped the listed structure could be reopened completely by 2013.
The authority has said £500,000 of the funding will come from money given to the council under development agreements for the Bath Western Riverside project.
Other funding will come from contingency money and loans.
The council report said there was a "significant risk" of "structural failure" following the bridge's closure in 2011.