Firms named to bid for £2bn Hinkley contract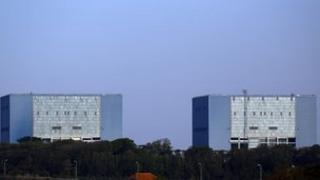 EDF Energy has named two firms as favourites for a £2bn contract for the planned nuclear plant at Hinkley Point.
Bouygues and Laing O'Rourke will work together on the civil works contract which involves building foundations for the plant, access roads and offices.
EDF chief executive Vincent de Rivaz said: "This was a close, very competitive tender which attracted some high quality and robustly-costed bids."
Naming these firms as favourites will enable EDF to negotiate a better price.
Depending on whether the government gives the go-ahead for the nuclear power plant, the civil works contract will create about 4,000 jobs.
The estimated cost of the build is £14bn and it will generate about 25,000 jobs.
A decision over the nuclear build is expected to be made next year.