Amy Hofmeister hit by car at 'limits of its control'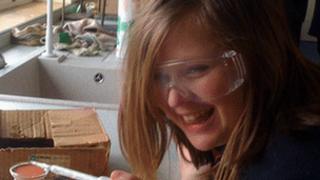 A court in Somerset has heard of the moment a schoolgirl was hit by a car following a "high impact" crash which killed her friend.
Amy Hofmeister, 13, died after a speeding Vauxhall Vectra hit a kerb, flipped over and ploughed into her and friend Lucy Hawkins on 15 June 2011.
Leonard Jones, 42, and Leanne Burnell, 21, were racing at 50mph over the speed limit at the time, the jury was told.
Ms Burnell has pleaded not guilty to causing death by dangerous driving.
Pain 'so bad'
Her boyfriend Jones has already admitted the same charge and will be sentenced at a later date.
A statement from Lucy Hawkins was read to the jury at Taunton Crown Court.
"I was aware of Amy seeing a vehicle, the next thing I knew was a rush of air and a loud noise.
"There was a high impact and I just remember coming to rest in a hedge.
"I looked over and saw Amy lying on her back with her bike next to her, she was completely still and wasn't moving at all.
"I screamed at her and got no response so I tried to pull myself along the pavement towards her, I didn't get very far at all because the pain in my hip was so bad."
David Martin, who was walking along Blackbrook Way where the crash happened said the Ford Focus, driven by Ms Burnell, appeared to be at the "limits of its control".
"It was sliding out of control. It crossed over the centre a few times," he said.
The case continues.