Minehead's Regal Theatre gets cash boost to improve access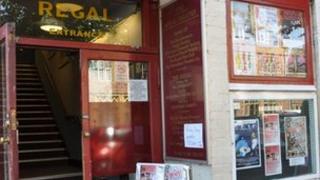 The Regal Theatre in Minehead has been allocated £50,000 by West Somerset Council to help improve access for members of the public.
The theatre has been campaigning for 15 years to get the £300,000 project started and will need to raise an additional £50,000 to complete it.
Improvements include building a new entrance and the addition of a lift.
The Communities and Local Government money is from its seaside strategy fund which supports small seaside towns.
"Minehead unfortunately fell into one of the 25 most deprived seaside towns in England and was awarded £200,000," said Conservative Councillor David Sanders, who is in charge of regeneration and economic growth at West Somerset Council.
"That money has been 'banked' with the local council and it was our responsibility to see it was spent wisely."
The Regal Theatre was built in 1934 as a 1,600-seat theatre and cinema.
Ray Tew, from Minehead Amateur Theatrical Association, said he was "delighted" at the decision.
"We will appoint a contractor in the early part of next week and we hope to begin work and dig holes in the ground the first week of September," he added.
"The idea is that it's going to be finished exactly one week before Christmas."