Cheddar Gorge cable car idea panned by National Trust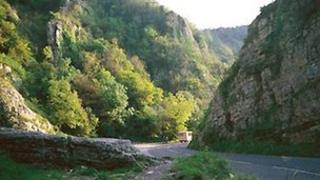 The National Trust has said it would object to plans to build a cable car across Cheddar Gorge in Somerset.
The Longleat Estate, which manages the gorge, has said the project would help make it more accessible to visitors and support conservation work.
Longleat Estate owns much of the land on one side of the gorge with the National Trust custodians of the other.
Allan King from the National Trust said the attraction would be a negative impact on the limestone gorge.
"We've looked at the benefits the cable car will bring and we've looked at the impact it's going to have," he added.
"We think that the impact is a negative one. Cheddar Gorge is a very specific area.
"It's a small, compact area and you wouldn't be able to see Cheddar Gorge in its true beauty with a cable car across it.
"There are benefits it's going to bring, we just feel this visual impact... is too much in an area that's a Site of Special Scientific Interest.
"It's a world renowned, iconic landscape."
Spectacular views
The idea of a cable car at the gorge was first suggested more than 20 years ago.
Although no planning application has been submitted the trust has made it clear it would object.
David Bradley from the Longleat Estate said he was "disappointed" with the trust's stance having previously consulted with it.
He said the objection was not the end of the plans and added he had the support of many local traders keen to increase visitor numbers - something the National Trust was also keen on.
"It doesn't necessarily mean we have to scrap our feasibility of looking at this," he added.
"It's always possible to reroute. There are various ways that you can get up to the top.
"One of the ways would have involved oversailing a very small part of the National Trust land and that would have probably afforded the best visual route for the people in the cable car.
"At the moment what we're doing is looking at alternative options."
Mr Bradley added that the primary objective of the attraction is to get people to the top of the gorge to see some of the spectacular views.
He added that the second public consultation into the attraction was due to take place as planned in September. The first was held in April.