Weston-super-Mare's big wheel cancelled, council reveals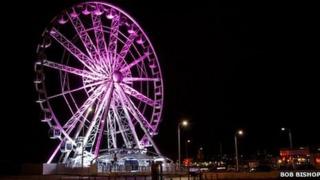 A 40m (131ft) big wheel will not be returning to the seafront at Weston-super-Mare for a fourth season, the council has revealed.
The giant observation wheel, operated by Great City Attractions, was removed from Beach Lawns at the end of 2011.
A council spokesman said the operator had failed to confirm "if or when" the wheel would return to the town and its contract had been terminated.
A 12m (38ft) high log-flume has been booked to replace the attraction.
Councillor Felicity Baker, from North Somerset Council, said: "While we understood the company's financial reasons for moving the wheel away last winter they just have not been forthcoming about if/when they might be returning.
"This is disappointing given the rapport we thought we'd built up with them.
"We weren't prepared to leave this prime site vacant and I'm really pleased that we have got an agreement with Event Attractions to bring their log flume to the town."
Construction on the flume is due to begin next month, with the attraction due to open in time for the school summer holidays.