Bath and North East Somerset second home council tax to rise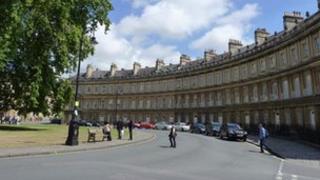 Hundreds of second home owners across Bath and North East Somerset could be asked to pay 10% more council tax under plans being considered by the council.
The local authority is also considering increasing council tax by 50% on homes that are empty or unfurnished.
The government is handing control over council tax benefits to local authorities from next April.
Some 711 second home owners would see their council tax discount of 10% disappear under the plans.
'Full whack'
If a property is left empty for more than two years, the owner would be told to pay an extra 50% council tax.
Some 915 properties in the area would lose their 50% discount for being unoccupied or unfurnished.
Paul Crossley, leader of the Liberal Democrat group, said: "If you've got a second home, first of all by definition you're doing OK.
"A second home left empty causes homelessness, it causes issues for us in Bath and North East Somerset.
"We've got a large waiting list and as far as we're concerned if people have second homes they can pay the full whack, there should be no discount for them whatsoever.
"And I would think every authority in the country will be following that model."
The plans will go before the council's cabinet on Wednesday after which a consultation is expected to take place.