AgustaWestland announces 450 new jobs at Yeovil site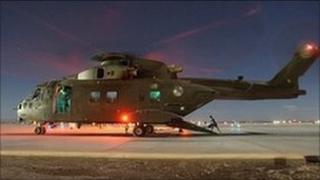 Helicopter firm AgustaWestland is to create 1,500 new jobs, with about 450 of them set to be based in Somerset.
The manufacturer, which has a plant in Yeovil, will begin a new programme to design, develop and manufacture a fleet of AW189 Search and Rescue helicopters.
Chairman of AgustaWestland UK, Graham Cole, said: "This is a big step for the company into the civil manufacturing aspects."
The AW189 will be the second civilian helicopter to be built at Yeovil.
Mr Cole said: "The AW189 is the largest variant of the 189 family and it will mean 1,500 jobs over the period of the programme.
"It's complicated to be precise but we anticipate it's worth about 450 jobs at the plant, obviously those will be secure the positions or increase the number," added Mr Cole.
Last year the helicopter manufacturer announced 375 job cuts at its Yeovil site in its management and corporate departments.
Most of the cuts were made through voluntary redundancies.
Mr Cole added: "We believe the 189 will be a world-beater and the exports will be over 200 over the lifetime of the programme."